In the tiny village of Algou, high in the Atlas Mountains, screams came from under the rubble in the terrifying moments after the earthquake.
But as the hours passed and with no specialist rescue teams appearing to assist the desperate efforts of the villagers, the screams turned to silence.
Three days on, the Spanish firefighters who were the first professional teams to reach the devastated community hoped time had not run out.
As they briskly picked their way through caved-in streets and collapsed archways their experience told them there was, however, no hope.
The grim reality was reinforced by the reaction of their dogs. Igor and Teddy had been trained to bark when they found signs of life.
The silence was deafening.
"There is nothing we can do here," said Juan Lopez, a firefighter responding to his second-ever earthquake.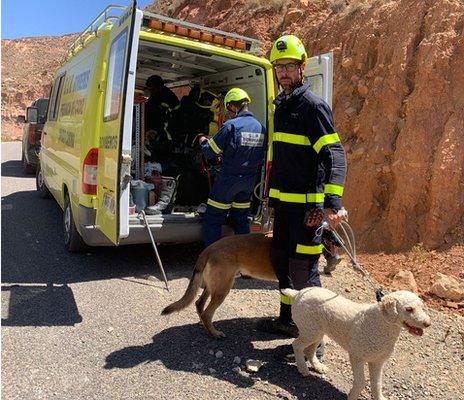 The first was when his team scrambled to Turkey back in February after the devastating earthquake there. The significant international response helped bring about some incredible moments of the trapped being prised from under the rubble, even days later.
"Here in Morocco, the houses are built from rocks. In Turkey they were made with steel and are much more strong," Mr Lopez said.
"We won't find anyone here," he said, as his colleagues gently shook their heads in agreement.
We followed the team as they moved on to the next village.
There is no good place for an earthquake to strike but there are few worse than Ait Hmid. It already teetered on the edge of the mountainside, but what is now left is slumped above the precipice.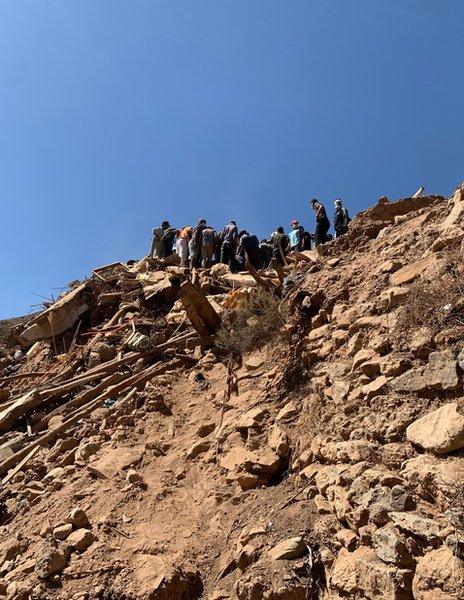 It is hard to comprehend that this mangled mound of bricks and stone was home to 28 people. Only seven survived.
As we clawed our way up to the top of the pile of rubble, Omar Ait Mahdi looked out vacantly across the valley.
Behind him, 20 men were working with pickaxes, shovels and hands.
Omar's wife was in hospital. He had still not found his two daughters: Hanane,17, and Khadija, 14.
Suddenly there was a burst of activity and an eruption of prayer.
The girls' bodies had finally been found.
As blankets and a stretcher were passed up towards the summit of the debris, Omar told us in a quiet voice he wanted to send out a message.
"I want people to help me. I want the world to help me. I lost my kids, my home, everything I own," he said.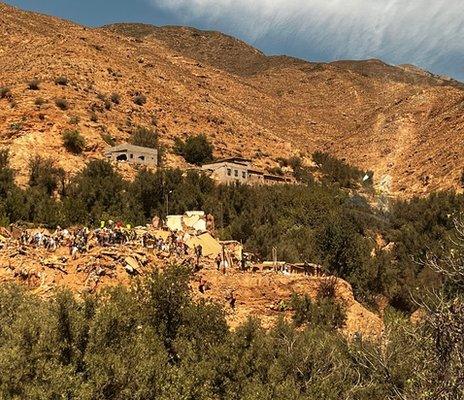 The Moroccan authorities are under pressure to accept help from more countries. So far assistance from only four nations has been taken and others, including France and Germany, have been declined.
Hanane and Khadija's uncle Hamid arrived to offer consolation, but he himself dissolved into tears.
"We need help so badly. And we need it from whomever will give it," Hamid said.